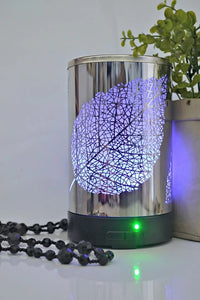 Ultra Sonic Diffusers are a perfect way to scent your home without a flame or heat, they run on a vibration system which creates a mist that scents the air.
These take water and fragrance oils. Oils must be water soluble, majority of oils are.
This diffuser is colour changing and has the option to have the light on or off. Also has the option of Intermittent diffusing. Meaning it will turn the diffuser on and off regularly so the diffuser will disperse less often. The unit will also automatically shut off when out of water.
Directions:
Use only half a cap of fragrance oil and the rest water. 
The units have a level you need to fill to.
Then you switch on. The unit will run until the water runs out, they will then turn themselves off.
The units should be given a quick clean out with a paper towel after each use to remove any residue.
Ideal for people who may have small children and don't want a flame or anything hot within reach.